Summary of EU Commission Decisions on authorisations for the use of substances listed in REACH Annex XIV
---
---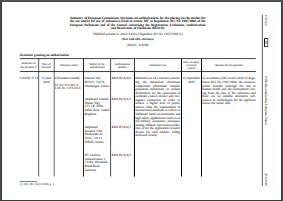 Summary of European Commission Decisions on authorisations for the placing on the market for the use and/or for use of substances listed in Annex XIV to Regulation (EC) No 1907/2006 of the European Parliament and of the Council concerning the Registration, Evaluation, Authorisation and Restriction of Chemicals (REACH).
Substances involved: chromium trioxide, potassium dichromate, sodium dichromate.

Click on the above substances to add them to your monitoring list. Use Chemycal PRO to keep control of emerging trends and regulations impacting your chemicals and products.