EU Commission reports on trade negotiations with Australia and New Zealand
---
---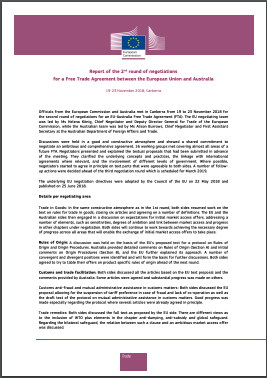 As part of its commitment to transparency, the European Commission published today a report from the latest round of negotiations between the EU and Australia, as well as the EU's six initial text proposalstabled during this round. EU negotiators were in Canberra, Australia from 19 to 23 November 2018 for the second round of negotiations for an ambitious and comprehensive trade agreement. The talks were constructive and the teams had substantive discussions on the various negotiating chapters.
The texts published today complement the 12 initial proposals that were published after the first round of negotiations. The Commission also published today six proposals for the negotiations with New Zealand. The latest round of negotiations with New Zealand took place in Wellington from 8 to 12 October and the round report can be found here.
For more information about the trade talks with the two partners see the dedicated webpages (Australia, New Zealand), as well as new footage of people and businesses who stand to benefit from the agreement and look to expand sales in Australia and New Zealand.
You can find all the audio-visual material including stock shots from the lead up to the first round here: for Australia and for New Zealand.