Anticipating and Adapting to Changes in the Pesticides Regulatory Landscape | OECD Report
---
---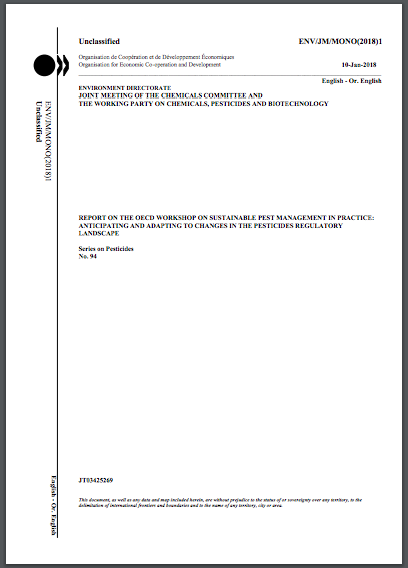 This document is the report of the OECD Workshop – Sustainable Pest Management in Practice: Anticipating and Adapting to Changes in the Pesticides Regulatory Landscape. This two-day workshop, held on the 1st and 2nd of December 2015 in Brisbane, Australia was hosted by the Australian Department of Agriculture and Water Resources. The workshop was co-chaired by Wolfgang Zornbach, Chair of the OECD Risk Reduction Steering Group (RRSG) and Kareena Arthy, Chair of the OECD Registration Steering Group (RSG).
The workshop focused on the approaches governments, the pesticides industry and growers use to adapt to changes in the availability of pesticide products.
Among the conclusions, it was reported that governments could work more closely on reviews of existing chemicals and may want to consider the development of new tools and guidance to enable harmonised evaluations of pesticide products and possibly also emerging application technologies (e.g. new spray drift minimisation technology and remote control aerial application). Regulators may learn from the experiences of others on how to assess risks and benefits of possible withdrawals of specific agricultural pesticides and the criteria to be taken into account, if substitution of chemicals with high risk to human health or the environment is required.
Link to the Report on the OECD Workshop on Sustainable Pest Management in Practice: Anticipating and Adapting to Changes in the Pesticides Regulatory Landscape