Cambodia (Kampuchea) Amendments as regards the Chemical Weapons Convention (CWC), the Ban Amendment on the Basel Convention, Labelling of Chemical Substances
---
---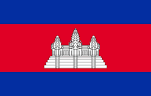 Chemical Weapons Convention (CWC)

Cambodia is a signatory to the international Convention on the Prohibition of the Development, Production, Stockpiling and Use of the Chemical Weapons and on their Destruction also known as Chemical Weapons Convention (CWC) and thus monitors the import of substances that may be used to produce such weapons. Imports of chemicals subject to the stipulations of the CWC may hence require a particular authorisation from the National Authority of Chemical Weapons.
Ban Amendment on the Basel Convention

Designated non-hazardous waste may be eligible for importation into Cambodia, e.g. iron and steel scrap. The Organisation for Economic Co-operation and Development (OECD) provides a guideline for the international trade in said goods by virtue of its Decision of the Council concerning the Control of Transboundary Movements of Wastes Destined for Recovery Operations. A corresponding OECD guidance manual has been developed.

Labelling of Chemical Substances

The section on Packaging and Labelling Requirements has been enhanced with details of the requirements for the labelling of chemical substances in Cambodia.
CONTINUE READING ON: madb.europa.eu