Thailand | E-waste an aggravating heap of a toxic problem
---
---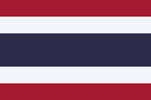 A 100-RAI (16-hectare) recycling plant in Chachoengsao province had been reported as having some of its lead furnaces engulfed in a fire a few months ago, and that's how the country was exposed once again to a shocking fact – that Thailand has become a critical hub of transboundary electronic waste transport due to its weak laws and poor e-waste management regime.
Responding to a complaint of toxic leakage, an integrated force of pollution control and public health experts and police, led by national deputy police chief Pol General Weerachai Songmetta, late last month raided WMD (Wai Mei Dat) Thai Recycling Co Ltd.
The officers found improper waste disposal and the seepage of heavy metals from e-wastes including huge piles of keyboards, electrical wires and computers overseen by undocumented workers.
The facility, allegedly owned by a Chinese businessman, was found to have illegally imported electronic waste to other locations, despite itself being legally registered as a recycling plant.
Four more facilities in other areas as far away as Lam Chabang seaport were reported to have committed similar offences, prompting PM General Prayut Chan-o-cha to vow to crack down on the transport of illegal electronic waste.
CONTINUE READING ON www.nationmultimedia.com