New study indicates toxic chemicals used in take-out food packaging from popular food chains
---
---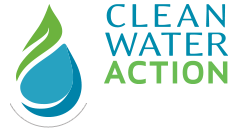 Hartford, CT—In anew report released August 6th, the Coalition for a Safe and Healthy Connecticut and Clean Water Action, in conjunction with the Mind the Store campaign, and partners, found that nearly half of all take-out food packaging tested from multiple popular food chains contains potentially toxic chemicals. The new investigation shows that all six food chains sampled had one or more food packaging items that likely contain toxic PFAS (per- and polyfluoroalkyl substances)—chemicals known to threaten human health.
The new study, Packaged in Pollution: Are food chains using PFAS in packaging? analyzed packaging from six national food chains, including top fast-food chains Burger King, McDonald's, and Wendy's as well as top health-minded food chains Cava, Freshii, and Sweetgreen. The testing suggests toxic PFAS treatment in both McDonald's "Big Mac" container and Burger King's "Whopper" wrapper as well as all of the health-conscious chains' salad bowls. (See results in the chart below.)
Five out of the six food chains studied do not have a public chemical policy to address toxic PFAS in their food packaging materials. The exception in this group is Sweetgreen, whichrecently announcedthat it is phasing out PFAS from its bowls by the end of 2020 and has already introduced PFAS-free bowls in one market. Other major retailers and restaurants that have committed to moving away from PFAS include Chipotle, Panera Bread, Taco Bell, Trader Joe's, and Whole Foods Market.
CONTINUE READING ON www.cleanwateraction.org