Global Pact for the Environment | Consultation on the EU Commission Roadmap 2018
---
---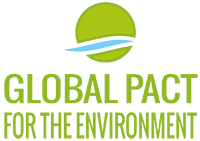 The development of a new instrument of international environmental law called
'Global Pact for theEnvironment'
, aiming to complement and improve the
coherence of international environmental law and to facilitate the implementation of existing obligations under international environmental law
, has been initiated by an international group of legal experts with the support of the French government.
The President of the French Republic introduced the project to the United Nations General Assembly on 19 September 2017, in the margins of the ministerial week of the General Assembly's 72nd session. The President of the French Republic called for the creation of a group of Friends of the Pact, which is to develop a draft resolution to be adopted by the United Nations General Assembly to launch formally the negotiations on a Global Pact for the Environment.
The aim of the Group of Friends is to prepare a procedural resolution establishing an open working group responsible for negotiating the Pact under the auspices of the General Assembly. This resolution is expected to be tabled in the first quarter of 2018. Once this resolution is adopted, the open working group would begin its work. It is currently envisaged that the open working group would be established in spring 2018 and would finish its work in 2020, when the negotiated instrument would be endorsed in an intergovernmental conference. During the negotiating process, the work carried out by the legal experts would not be considered as a zero draft. There is, therefore, currently no text on the table and the United Nations General Assembly has yet to adopt a resolution that would frame this process.
The EU Commission recommends for a Council decision to authorise the Commission to open negotiations on behalf of the European Union. The initiative aims at ensuring the EU's participation in the negotiating process. This can only be done by obtaining from the Council the authorisation for the Commission to negotiate the future Global Pact on behalf of the EU. The legal basis for the Council to authorise the opening of negotiations is Article 218(3) and (4) TFEU. The aim of EU participation in the negotiations is to maximise the international instrument's alignment with relevant EU and other international law.
A roadmap has been published, in parallel to a public consultation open until the 15th of March 2018.