Report: Dirty Fashion Disrupted | Leaders and laggards revealed
---
---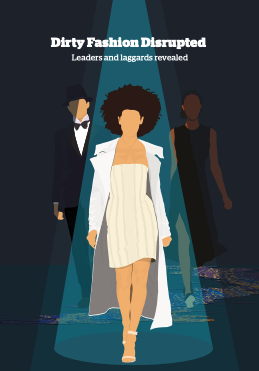 Executive summary
One year on from Dirty Fashion: On track for transformation , 1 this report assesses where global clothing com - panies and viscose producers stand in the transition towards responsible viscose. Through detailed scrutiny of 91 brands' and retailers' transparency and sourcing policies, and producers' responsible production plans, we examine progress to date and gaps in existing commitments and pledges.
When our Dirty Fashion campaign launched in 2017, there was little knowledge of the environmental and social impacts of viscose production within the clothing industry. To the extent that brands and retailers were aware of sustainability problems in the viscose supply chain, they were mostly focused on the sourcing of timber for use in the production of wood-based dissolving pulp, which is the starting material for most viscose. In partnership with the NGO Canopy, many had pledged to stop sourcing pulp from ancient and endangered forests. Through 'Detox' commitments with Greenpeace and other initiatives, such as the ZDHC Foundation's Programme on hazardous chemicals, some had also taken action to curb pollution from wet processing by committing to phase out the use of toxic substances in textiles dyeing and finishing.
However, almost without exception, brands and retailers had neglected to address a key part of the production chain causing significant pollution and taking a heavy toll on the health and livelihoods of communities living in the shadow of viscose factories.
CONTINUE READING ON changingmarkets.org