Policy support stressed to avert health hazards of e-waste
---
---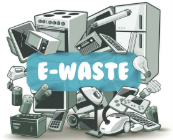 Lack of awareness and gross negligence in managing increasing amount of e-waste creates health and environmental hazards in the capital and elsewhere in the country. Terming these health hazards as "seriously threatening", speakers at a roundtable discussion yesterday said proper management and recycling of the e-waste could not only avert health hazards, but would also create an industry out of it.
The roundtable discussion, titled "E-waste management: A huge challenge for Bangladesh", was arranged by the Telecom Reporters' Networks of Bangladesh (TRNB) at a city hotel.
A presentation at the seminar said since e-waste is nothing but a combination of plastics and toxic chemicals, these get released into the environment after improper disposal.
Pollutants such as dioxins and furans from polyvinyl chloride ( PVC), lead, beryllium, cadmium, mercury, etc. get into our environment and cause problems to the immune system and nervous system and even interfere with regulatory hormones, said the presentation.
CONTINUE READING ON m.theindependentbd.com