Louisiana OKs Permit for Plastics Plant in 'Cancer Alley'
---
---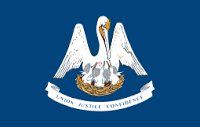 The name "Cancer Alley" originated in the 1980s because of residents' poor health and environmental pollution within an 85-mile stretch of land along the Mississippi River between Baton Rouge and New Orleans. The area is home to many petrochemical factories that opened during a period of rapid industrial growth.
Formosa Plastic's new plant – which will become one of the largest, single-site ethylene production complexes in the world, will emit thousands of tons of volatile organic compounds, particulates and nitrogen oxides a year, according to its permit application. Environmentalists say it will also result in the destruction of 100 acres of wetlands in St. James Parish.
The plant will also emit, but to a lesser extent, Toluene and benzene, and will store hazardous and potentially explosive chemicals and release treated wastewater into the Mississippi River.
The water treatment process will produce a sludge that will have to be disposed of at a permitted facility, according to a Baton Rouge Advocate report.
CONTINUE READING ON www.courthousenews.com