Indonesia to lead nickel production: BMI | MINING.com
---
---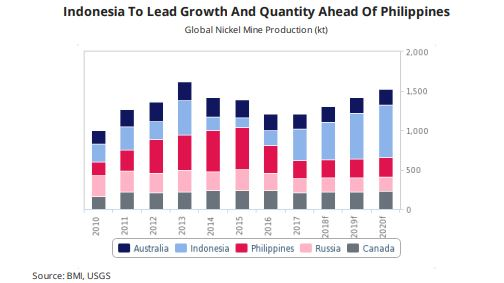 A new report released by BMI Research states that global nickel ore production growth will continue to accelerate in 2018 as major producer countries see a recovery in production levels following subdued output in 2017.
According to BMI, by 2027 global annual nickel production should reach 2.9mnt. In the firm's view, Indonesia would continue to lead the way after having surpassed the Philippines as the largest global producer in 2017. The transcontinental country will also be the best performing one in terms of nickel production growth during 2018-2027 thanks in part to the moderation of its export ban.
Throughout the period 2018-2027, BMI sees Indonesia's nickel industry growing production by 8.1%, in part benefiting from stricter environmental regulations in its biggest regional competitor, the Philippines. This development would increase the rate at which Indonesia regains part of the Chinese market share it had previously lost to its neighbour.
CONTINUE READING ON www.mining.com