Know more about CHEM Trust
---
---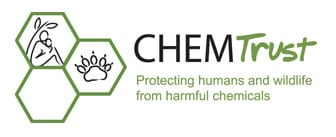 CHEM Trust is a UK registered charity that works at EU, UK and International levels to prevent man-made chemicals from causing long term damage to wildlife or humans, by ensuring that chemicals which cause harm are substituted with safer alternatives. CHEM Trust has been running since 2007, and work closely with NGOs & academics in European & beyond. CHEM Trust works at the interface between science and policy, particularly focusing on the need to identify and phase out endocrine (hormone) disrupting chemicals.
Tell us a bit more about the main activities, campaigns and/or projects you are working on at the moment?
CHEM Trust is currently focussing its efforts on the EU chemicals policy and legislative agenda relating to industrial chemicals, food contact chemicals, pesticides and biocides. We're particularly focussed on the implementation of EU legislation on endocrine disrupting chemicals.
We also work to highlight the need for the Circular economy to include processes to address hazardous chemicals. Finally, we work to ensure that Brexit does not result in weaker regulation of chemicals within the UK.
In addition to our participation in the EEB's chemicals working group, we are also part of the EDC Free network and Break Free From Plastic.
CONTINUE READING ON eeb.org