EU Shows Progress Towards Sustainable Development Goals, Highlights Areas for Further Action
---
---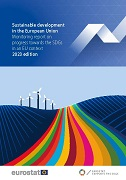 Eurostat, the statistical office of the European Union, has released the 'Sustainable development in the European Union — monitoring report on progress towards the SDGs in an EU context, 2023 edition.' The report highlights the EU's advancements towards the Sustainable Development Goals (SDGs) over the past five years, aligning with the Commission's key policy areas such as the European Green Deal and the European Pillar of Social Rights Action Plan. The data reveals significant progress in socio-economic goals, while further strides are anticipated in the environmental domain with the implementation of the ambitious targets of the European Green Deal.
For the first time, the report examines the short-term impact of ongoing crises on the SDGs, including the energy crisis stemming from Russia's conflict with Ukraine and the residual effects of the pandemic. Additionally, the report delves into the spillover effects of EU consumption on the global stage. Notably, the EU has made notable progress in several SDGs, particularly in promoting decent work and economic growth (SDG 8), reducing poverty (SDG 1), and enhancing gender equality (SDG 5). The report also highlights positive advancements in reducing inequalities (SDG 10), ensuring quality education (SDG 4), fostering peace and personal security (SDG 16), promoting health and well-being (SDG 3), and encouraging innovation and infrastructure (SDG 9).
The report indicates moderate progress in responsible consumption and production (SDG 12), sustainable cities and communities (SDG 11), life below water (SDG 14), zero hunger (SDG 2), clean water and sanitation (SDG 6), and affordable and clean energy (SDG 7). However, more concerted efforts are required to address climate action (SDG 13), life on land (SDG 15), and global partnerships (SDG 17). The EU is expected to implement more ambitious targets in these areas, necessitating additional endeavors to achieve the desired outcomes. The report underscores the EU's commitment to sustainable development, as reflected in key policies, initiatives, and the 2030 Agenda for Sustainable Development adopted by the United Nations.
SOURCE: ec.europa.eu