Sustainable use of pesticides | Final report on a fact-finding mission carried out in Sweden
---
---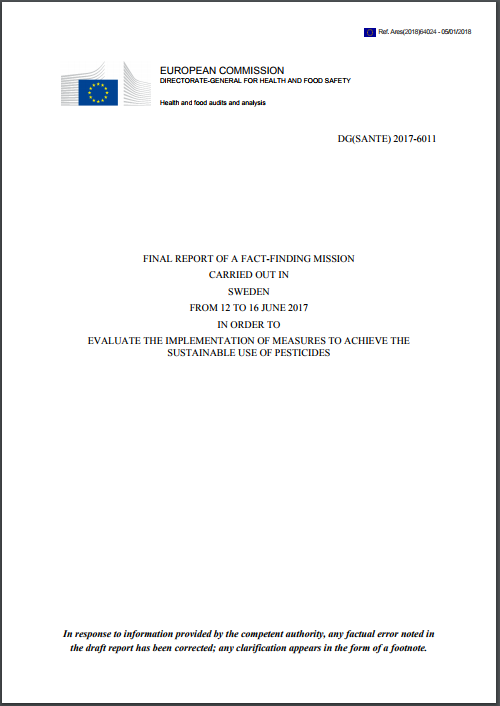 CONCLUSIONS - Sweden has had action programmes to reduce the use of chemical pesticides since the 1980s. The current National Action Plan focuses on reducing the risks associated with, and dependency on, pesticides. It establishes clear objectives, with specific targets in some cases. The first formal review of the current plan is on-going, and is expected to be concluded by the end of 2017. Therefore, it cannot yet be determined whether the objectives of the plan have been achieved. Nevertheless, the risks to human health and the environment associated with pesticides in Sweden are low by historic standards, and remain stable against a backdrop of increasing use in recent years.
The Competent Authorities have taken a range of measures to implement the Directive. These include systems for training professional users and distributors, and for testing pesticide application equipment. Aerial spraying has been prohibited, and no derogations have been granted to date. Measures have been put in place to protect the aquatic environment and drinking water, and data from the monitoring of municipal water supplies demonstrates high levels of compliance with drinking water quality standards.
The Swedish approach to Integrated Pest Management is based around training and education, with a focus on sustainable agriculture in general, rather than on plant protection in particular. There is independent, publicly-funded information available to guide professional users in Integrated Pest Management. The Competent Authorities believe that the vast majority of professional users implement the principles of Integrated Pest Management, however there is no systematic assessment of implementation of the eight principles of IPM as described in Annex III of the SUD.
The report highlights a number of good practices identified in the course of the mission, such as an extensive pest monitoring system. In addition, both the Competent Authorities and other interested parties identified potential obstacles to the sustainable use of pesticides such as the lack of applied research under Swedish conditions to facilitate professional users in the implementation of Integrated Pest Management and difficulties in assessing the implementation of Integrated Pest Management.
ULL REPORT AVAILABLE ON ec.europa.eu