DANISH CENTRE ON ENDOCRINE DISRUPTERS | List of Endocrine Disrupting Chemicals | Final report
---
---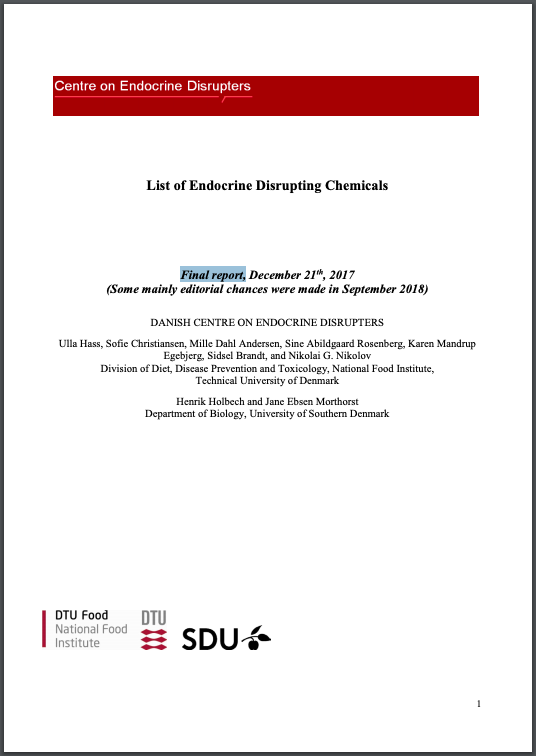 This report has been prepared by the Danish Centre on Endocrine Disrupters (CeHoS) as a project contracted by the Danish Environmental Protection Agency (EPA). CeHoS is an interdisciplinary scientific network without walls. The main purpose of the CeHoS is to build and gather new knowledge on endocrine disrupting chemicals (EDCs) with the focus on providing information requested for the preventive work of the regulatory authorities. CeHoS is financed by the Ministry of the Environment and the scientific work programme is followed by an international scientific advisory board.
The overall scope of this project is to provide a science based consolidated list of EDCs and suspected EDCs which can be used by the authorities as,
1. Basis for input to EU regulation
2. Basis for the eco-label criteria
3. Clear communication to consumers
The project was carried out by a project team: Ulla Hass (project leader), Mille Dahl Andersen, Sofie Christiansen, Sine Abildgaard Rosenberg, Karen Mandrup Egebjerg, Sidsel Brandt, Eva B. Wedebye and Nikolai G. Nikolov at the Technical University of Denmark (DTU) and Henrik Holbech and Jane Ebsen Morthorst at University of Southern Denmark (SDU).
Link to the Danish report