New Zealand | Implementation of the Globally Harmonized System of Classification and Labelling of Chemicals | Consultation Document: Revision 7 (2017)
---
---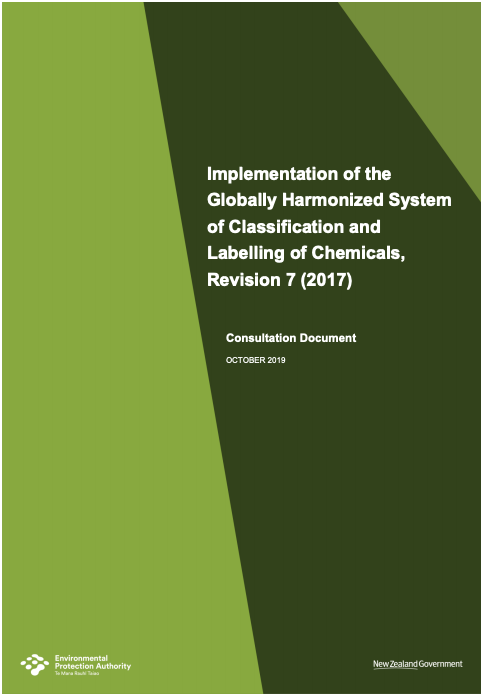 Title of document
Consultation Document: Implementation of the Globally Harmonized System of Classification and Labelling of Chemicals, Revision 7 (2017). (60 page(s), in English)
Description
This consultation document is seeking input on a range of proposals related to moving New Zealand from its current hazard classification system for hazardous substances, which dates from 2001, to Revision 7 (2017) of the United Nations Globally Harmonized System of Classification and Labelling of Chemicals (GHS). This consultation document also includes an exposure draft of the new Hazardous Substances (Classification) Notice, the legislation that implements the classification system for hazardous substances under the Hazardous Substances and New Organisms (HSNO) Act 1996.
Notifying member: New Zealand
Notification: G/TBT/N/NZL/92
Objective tag
Consumer information, labelling; Protection of the environment; Reducing trade barriers and facilitating trade
Objective
Adopting the GHS 7 system will ensure an internationally aligned classification system for hazardous substances that facilitates trade, increases efficiency in chemicals management, and enhances the effectiveness of the HSNO Act.

Agency responsible
Environmental Protection Authority (EPA) Level 10, Grant Thornton House 215 Lambton Quay Private Bag 63002, Waterloo Quay Wellington 6140 New Zealand Ph +64 4 916 2426 Email [email protected] www.epa.govt.nz
Timing:
Submission: 06/11/2019
Reception: 07/11/2019
Distribution: 07/11/2019
Final date for comments: 09/01/2020
Proposed date of adoption: N/A