ECHA | Transparent progress in addressing substances of concern | Integrated Regulatory Strategy Annual Report - April 2021
---
---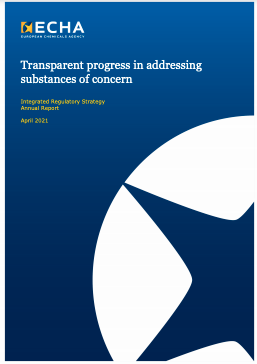 EXECUTIVE SUMMARY
ECHA's Integrated Regulatory Strategy aims to accelerate data generation, identification of groups of substances of concern, and regulatory action. It does so by providing a setup where different regulatory processes can be coherently, effectively and efficiently used, and by encouraging collaboration between ECHA, Member States and the European Commission.
The strategy's goal is to clarify by 2027 which registered substances are a high priority for regulatory risk management or data generation, and which are currently a low priority for further regulatory action.
The group approach – where structurally similar substances are addressed together rather than substance by substance – supports these objectives by enhancing the efficiency of authorities' work, helping them focus on substances of potential concern and to identify appropriate regulatory actions. The mapping of the chemical universe increases the transparency of authorities' work.
The results of 2020 show that the strategy has accelerated regulatory action on substances of concern and increased transparency, predictability and efficiency. In particular, by working on groups of substances and pooling all available information together, we have been able to substantially increase the number of substances being considered for regulatory risk management.
The most visible development is the progress made in clearing the 'not yet assigned' pool. The number of substances registered above 100 tonnes per year that were not yet assigned decreased by 26 % compared to August 2019 figures when the first universe mapping was done. Similar trends are also visible for substances registered at lower tonnages.

Link to the Integrated Regulatory Strategy Annual Report - April 2021