Tunisia Amendments as regards Arms, Ammunition and Explosives, marking requirements for Plastic Bags
---
---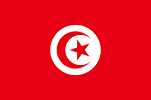 Arms, Ammunition and Explosives

The competent authority for the granting of the mandatory Licence for Dealing in Weapons, Ammunition and Explosives is the State Secretary of Security, which comes under the Ministry of the Interior. Said licence is a prerequisite for the Permit to Import Arms, Ammunition and Explosives, which is to be obtained from the same authority for each actual importation of the quoted goods.
Marking Requirements for Plastic Bags
Generally, it must be taken into consideration that packages are often stored outdoors, so that they should be waterproof and heat-proof. Materials such as straw and hay should be avoided in the packaging process, as they may be rejected by Tunisian customs authorities according to the applicable regulations on public health. All pallets must be wrapped with a black non-transparent foil. They must furthermore be marked with an identification number, the number of total pallets and the amount of packages per pallet. Commercial documents such as the corresponding freight document, Manifest, Commercial Invoice and Packing List (if applicable) must include a description of the packaging with the number of pallets, number of packages and kind of packaging (e.g. five pallets with 20 cartons). Noncompliance with these packaging instructions is penalised with a fine amounting to 150 EUR by the customs authorities.
Although for the majority of products there are no specific marking requirements, it is advisable to place a permanent indication of the country of origin on the packages in case their appearance could lead to the conclusion that they are from Tunisia.
In accordance with Governmental Decree No. 2020-32 of 16 January 2020, all types of plastic bags which may be imported into and distributed in Tunisia must bear the following marking, to be affixed by their producers and/or importers in a visible and permanent manner, written in at least Arabic
CONTINUE READING ON: madb.europa.eu