Victims of industrial pollution defend their rights | Thailand
---
---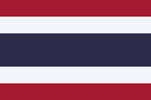 The "Citizen Science Project" successfully enhanced the public participation for environmental and health protection in Thailand. Gold mining, contaminated water or inadequate worker rights shall no longer be serious issues in the sites targeted by the program. Local communities have achieved significant changes also thanks to the help of non-governmental organizations EARTH and Arnika, thus celebrating today's World Environment Day.
Increasing Transparency in Industrial Pollution Management through Citizen Science is a project funded by the European Union (EU). It encourages pollution-affected communities to generate scientific evidence about industrial pollution causing environmental and health damages. It has the objective to promote corporate accountability and citizen access to information about environmental issues. The activities are implemented by local NGO Ecological Alert and Recovery - Thailand (EARTH) together with Arnika NGO from the Czech Republic.
In the framework of the project, three community-based organizations were supported for a total amount of 9,000 EUR (approx. 335,000 THB) to implement activities reducing the impact of pollution in the life of Thai citizens.
CONTINUE READING ON arnika.org