Ecuador amends Import Quotas for Designated Ozone-Depleting Substances (ODS)
---
---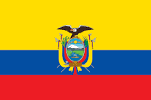 Accreditation of Trade Operators - The National Customs Service of Ecuador (SENAE) is responsible for the accreditation of authorised economic operators (AEOs, operadores económicos autorizados - OEAs), who benefit from a privileged treatment in Ecuador. The applicable provisions have been summarised in a separate chapter entitled Authorised Economic Operator (AEO) below. For specifics, please turn thereto.

Import Quotas for Designated Ozone-Depleting Substances (ODS) - As the Ministry of Industry and Productivity (MIPRO) establishes import quotas for certain hydrochlorofluorocarbons (HCFCs), i.e. the maximum value and quantity which may be imported into Ecuador within a stipulated period of time, the section on Ozone-Depleting Substances (ODS) has been updated accordingly.

Electric Three-Wheeled Vehicles - The chapter on Motor Vehicles has been amplified with the registration requirements for importers of electric three-wheeled vehicles in accordance with Ministerial Agreement No. 004-2018. For further details, please refer to the quoted paragraph.