EU OSHA - New data on exposure to dangerous substances at work
---
---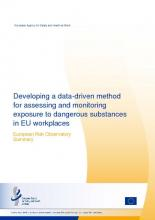 This publication describes the development of new methods to assess the number of workers exposed to dangerous substances in the EU and the extent of that exposure. The study aimed to identify the substances and sectors that pose the greatest risks to workers, examining the trends over time.
The purpose was not only to arrive at an overview of the use of dangerous substances but also to create a methodology that could be used again to monitor future trends and developments.
SOURCE: osha.europa.eu
The substances mentioned in this publication are listed below in the footnote. Click on them to access their world regulatory maps and to remain updated on their regulatory status.
With Chemycal you can be alerted in case information on specific substances might impact your products. Are you not a Chemycal user yet? Contact us at info@chemycal.com