EEB | Priorities for the 2020-2021 Trio Presidency
---
---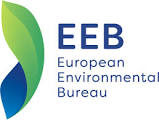 The upcoming Presidency Trio of Germany, Portugal and Slovenia has the potential to make a major contribution and promote concrete steps to drive a transformative agenda during the coming eighteen-month period.
It will play a central role in steering the EU towards a sustainable agenda and will at the same time be judged on how it deals with the Corona crisis and its economic fallout.
Our "Dozen Demands" within show where coordinated Presidency engagement, commitment and solidarity can make a lasting and fundamental difference.
CONTINUE READING ON eeb.org