United Arab Emirates | UAE Technical Regulation for Labeling –Energy Efficiency Label for Electrical Appliances Part 9: Vacuum Cleaners; (7 page(s), in English and in Arabic)
---
---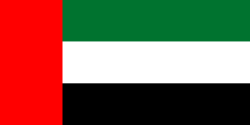 This technical regulation applies to household electric mains-operated vacuum cleaners, including hybrid vacuum cleaners.
This standard does not apply to the following types:·
Water-only vacuum cleaners, dry and water-based vacuum cleaners, battery-only or self-powered vacuum cleaners (robot), industrial or central vacuums· Floor polisher· Vacuums intended for use outside the buildings (outdoor vacuum).
The purpose of this regulation is to define the energy consumption of household vacuum cleaners and methods of measurement for them.
Relevant documents:
(*) WTO Notification: G/TBT/N/ARE/528
(*) Draft regulation: UAE.S 5010-9:2021 (English), UAE.S 5010-9:2021 (Arabic)