Thai Government Revises Decision to Ban Three Major Chemicals in Vegetable and Herb Farming
---
---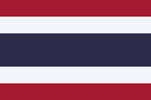 Thailand's Hazardous Substance Committee (HSC) Thursday revised its decision to ban three major chemicals in vegetable and herb farming.
The chemicals, paraquat, chlorpyrifos and glyphosate, are now only partially restricted. They can still be used in six kinds of economic plants including corn, cassava, sugarcane, rubber, oil palm and fruits.
The renewed decision was announced after a meeting of the committee chaired by Mongkol Pruekwatana, chief of the Industrial Works Department.
Earlier this month, the panel resolved not to impose a full ban on the use of the three farm chemicals and instead suggested a restriction be applied to their use.
CONTINUE ON www.chiangraitimes.com